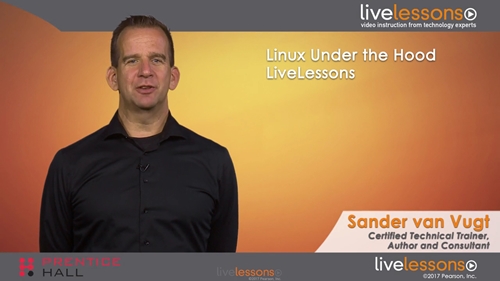 LiveLessons - Linux Under the Hood 2017 TUTORiAL | 35.64 GB
Learn everything about Linux internals and how Linux works. Linux Under the Hood is a unique video project that focuses on the Linux operating system. Although most Linux books and videos, how to accomplish tasks in Linux, this video course goes beyond the how and dives into the why.
So, instead of learning how to use commands and configure services, you will take a look at what's happening in Linux when you perform tasks. We'll go deeply into the Linux operating system in a way that is understandable to anyone. There's no need to be an expert or have a C programming language background; The only thing that is required is a bit of experience with the Linux operating system.
Content
Lesson 1: How Linux is organized
Lesson 2: About C code, scripts and compiled programs
Lesson 3: Understanding Linux commands
Lesson 4: Understanding the Linux boot procedure
Lesson 5: Understanding Linux storage
Lesson 6: Understanding memory management
Lesson 7: Understanding processes
Lesson 8: Security
Lesson 9: Hardware initialization
Lesson 10: Looking closer at the kernel
Lesson 11: Understanding networking
Lesson 12: Performance optimization
Lesson 13: The future of Linux
Example files: none
Video Format: MP4
Video: AVC, 1280x716, 1280x718, 1280x720 (16: 9), 30.000 fps, ~ 493 Kbps avg, 0.018 bit / pixel
Audio: 48.0 KHz, AAC LC, 2 ch, ~ 159 Kbps
Year of manufacture: 2017
Manufacturer: LiveLessons
Manufacturer's website:
informit.com/store/linux-under-the-hood-livelessons-9780134662992
Duration: 9:35:39
Type of distribution: Video lesson
English language
PLEASE SUPPORT ME BY CLICK ONE OF MY LINKS IF YOU WANT BUYING OR EXTENDING YOUR ACCOUNT